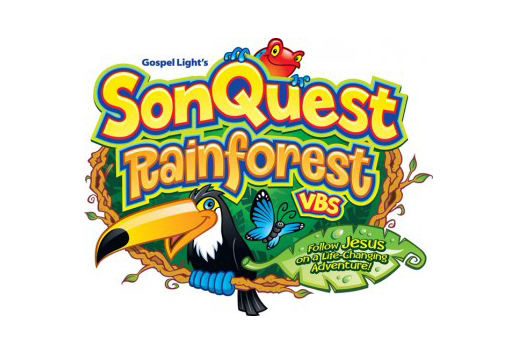 We are so excited about this year's Vacation Bible School! Our theme this year will be: Following Jesus on a Life Changing Adventure in Gospel Light's "SonQuest Rainforest." Five days of exciting music, crafts, teaching and fun.
You will enter a world of amazing animals, fabulous fish, and intelligent insects when you travel a long way upriver to discover this abundant rainforest! SonQuest Rainforest is far from the ordinary.
It is a vibrant and dynamic place filled with enormous plants that seem to cover everything and that echoes day and night with the sounds of lively birds and animals!



Kids will Get It! On day one as they hear the truths of the "Parable of the Sower," kids will understand the importance of not only hearing God's Word, the Bible, but also living it out every day.



Kids will Get Found! On day two as they hear Jesus tell the "Parable of the Lost Sheep." They will discover what it means to be lost and how each one can be found by Jesus to become part of God's family.



Kids will Get God's Love! On day three as they listen to the "Parable of the Good Samaritan." Kids will be inspired to share God's immeasurable love with others.



Kids will Get Praying! On day four from the "Parable of the Friend at Midnight." They will understand the peace that comes from knowing that anytime is the right time to pray to Jesus.



Kids will Get Going! On day five as they understand the "Parable of the Talents." They will  discover what it means to love God by doing their best.So bring your kids to SonQuest Rainforest Vacation Bible School. It promises to be a an experience that they will never forget.


Vacation Bible School is from July 12-16 from 6:45p.m. to 8:00p.m. Registration will be in the Family Activities Center.