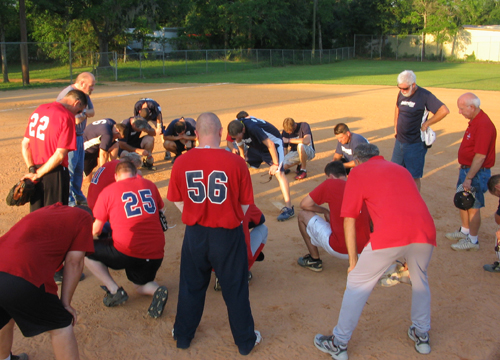 Come and see churches from all over Jacksonville play for championship bragging rights at the Hogan Christian Athletic Association (HCAA) Spring Softball Tournament. A big part of Hogan's 13 acre campus, as well as one of our most prolific ministries is our evangelistic recreational sports venue. We provide a safe Christian family environment. Admission is free, concessions are cheap and the experience will be priceless.
This Spring, we had more than 30 teams representing a number of different churches, and a broad spectrum of denominations, sign up for good competition in a Christ centered environment.
Our tournament begins this Monday night at 6:45p.m. and will continue Tuesday, and Thursday night for the next two weeks. Game times are 6:45, 7:50, and 8:55p.m. We have had a great season and our tournament action promises to be even better. Come and cheer your church team on, or come out and enjoy the Christian fellowship. There is no better deal this side of Heaven.
If you are interested in, or would like to inquire about participating in our upcoming Fall season, or have general questions, please feel free to contact the church for details. Also, if you thought the ball games were something, you should check out Hogan's weekly services. It is certainly a joy to be apart of a well rounded ministry that has so much to offer the servant of God as well as the one being served. We look forward to seeing you.